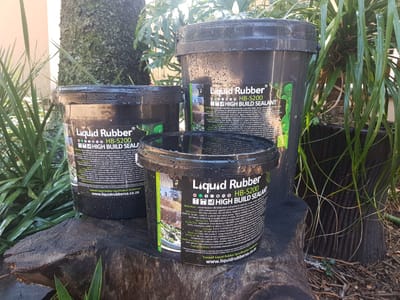 Liquid Rubber Industries SA (Pty) Ltd ("LRI") is the owner of the "Liquid Rubber" trademark in South Africa and has been distributing cutting edge protective coatings since 2009.
Liquid Rubber's product range is environmentally safe and used for waterproofing and corrosion protection to both horizontal and vertical surfaces, above and underground. Liquid Rubber is highly resistant to a range of acids, alkalis , waterborne salts, ultra violet rays and biological deterioration.
Our products cover an extensive range of instant-setting and highly flexible elastomeric modified emulsion coatings in various industries with wide range of applications:
- Waterproofing
- Corrosion protection
- Fireproofing
- Soil stabilization and Dust control
- Asbestos encapsulation
Key Benefits:
Our products is known for their ease of surface preparation and application which makes it cost effective. The elastomeric coatings fully adheres seamlessly to various substrates. All our product are cold applied, environmentally friendly and safe.
Valued Customers,
As we continue to navigate the challenges posed by this pandemic the safety of our employees and our customers remains top priority.
Our customers' business continuity is a key priority. We want to minimize service disruptions or impacts to your business. Though work environments have changed, our commitment to our clients remains the same. Essential suppliers are staffed with critical employees adhering to regulations focused on their safety, including physical distancing protocols and elevated cleaning procedures. Our office-based employees have successfully transitioned to work-from-home.
I am pleased to report that we can process and deliver your order for products required for essential repairs and renovations.
Please contact us should you have any questions or concerns. Thank you for your continued support.